RCA/Decca's "lost" Gioconda unearthed
Ponchielli: La Gioconda. Milanov, di Stefano, Warren, Elias, Amparan, Clabassi; Previtali cond. Orch. & Chorus of L'Accademia di Santa Cecilia, Rome (RCA LSC-6139; 4 LPs. Issued 1958)
After a long separation, this recording and I were finally reunited yesterday when I gave a listen straight through to the original RCA Living Stereo pressings. These you generally don't see around very often: the recording was kind of a dud commercially. It was issued on four rather than three LPs, there were numerous typos in the booklet (including the misspelling of the name of the original play and the omission of the side change markers), it was negatively reviewed, and a better-received competitor came out from Decca almost simultaneously. It soon was transferred to RCA's budget Victrola label, and eventually the rights reverted to Decca, who've had it in and out (mostly out) of print ever since.
Was it deserving of this bummer of a fate? Well, yes and no. On the debit side: This is just the sort of opera that cries out for the kind of old-style Italian repetiteur represented by the likes of Previtali, but here he seems on autopilot. The thing obviously *needed* eight LP sides, thanks to his deliberate, occasionally leaden tempi. (As a guidepost as to how it can and should be done, there's that roughly contemporaneous Gavazzeni performance for Decca; and for the Toscanini-ites among us--not I, though in this work I might be persuaded to budge a bit--there's Panizza in the '39 Met broadcast, who conducts the Dance of the Hours like it's the opening scene of Otello.) Strike one.
All three--repeat, *all three* of the principals are past their best. This (and Leonora in Forza, I suppose) was Milanov's signature role, and what a pity that she (or RCA) got around to it a tad too late. Thankfully, there are several Met broadcasts to give us a better idea of what she was capable of in the part--first and foremost that Panizza of '39, where she's partnered by the great Martinelli--but of course none in this kind of sound, about which more anon. While there are moments, none more memorable than The Note, which she sings beautifully here (but releases a bit awkwardly--though only in comparison to her best, er, "Notes" in the broadcasts), there are overall a kind of blowsiness and loosey-goosey approach to the high register typical of Milanov's late-career performances. (And to think she sang 8 years after *this!*)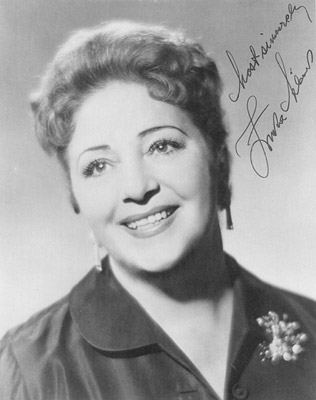 Warren's best years were the '40s, so all his LP recordings of the complete operas find him varying degrees of "past his prime-ness." But that doesn't mean there's not a lot of power and brilliance to be heard; I find it heard here to greater advantage than in any of his studio recordings of the '50s, save for the Macbeth. More below.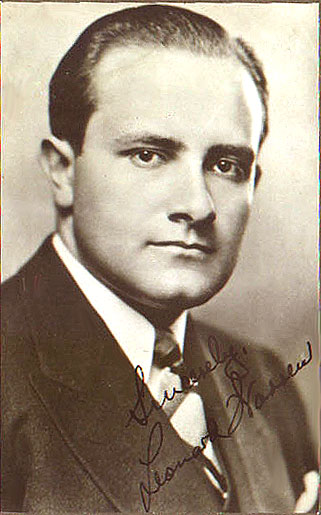 Di Stefano is the real problem child of this recording, which is frequently cited as one of the prime examples of the self-destruction of his voice. I can't really argue with that. When he slams into and holds any of those loud, open high notes (go ahead--you pick 'em), you get this mental image of him standing on his tippy-toes, neck strained, eyes bulging, face turning a deep shade of purple. Really, it apparently wasn't all that bad (the neck thing I mostly made up), but this was still the kind of singing that did his voice absolutely no good. It was, as we now know, the beginning of the end, this in his mid-'30s, an age when most great singers are just getting their feet wet. Very sad.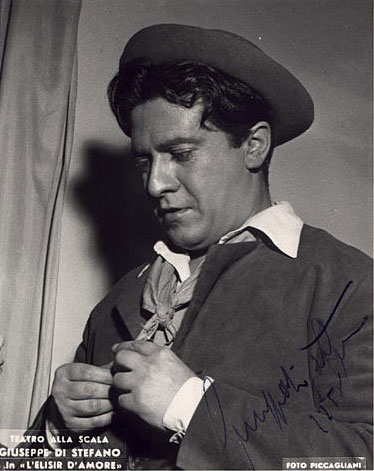 So with bad marks for all three of the principal singers and the conductor, that makes four strikes, and in baseball, as we know, that's one too many (actually two too many, but you know what I mean). But because this is my review and I'll do as I please, I'll give the singers one strike combined, which gives us only two strikes total and allows this review to continue (as the crowd jeers in unison).
So what's so good about it? Let's take the points one-by-one. There are some names from the first part of this essay that will reappear in this section. Milanov: this was indisputably *her* role, and her performance, even at this late date, cannot be casually dismissed with a wave of the hand. The voice is still clearly of the right weight and timbre, the sound is still beautiful much of the time, she's got a functional chest register (though occasionally you wish she'd lean into it with a bit more gusto), and she knows how to sing--and above all, how to sing this role.
Warren practically walks away with the performance in his back pocket. First and foremost, there's the outsized, melodramatic characterization, including that anguished, hair-raising scream at the opera's close. (Can you imagine a Hampson or Terfel--to name just two who probably have never even come close to the role [or if they did, shouldn't have]-- "lowering" himself to do this kind of thing nowadays? But hey, friends: that's opera!) Although there is the usual lack of steadiness, particularly in faster passages, that tended to increasingly plague his singing at this point in his career, there is also the high register in its usual mind- boggling form, and also some of the most exquisite sotto voce, introverted soft singing you'll ever want to hear, particularly in Act I.
Funny how we remember Warren almost exclusively as a *loud* singer (and loud he could be, especially in the seemingly endlessly forte series of aria recordings in the '40s--the Romophone set, played in sequence, gives me a headache); but in reality, some of his best work was accomplished at the opposite end of the dynamic scale. Meaning "he sang soft real good."
The "Bit Players:" Alvise is hardly a comprimario role, but it gets something less than star billing on this set. Plinio Clabassi was a serviceable basso who came in handy, mostly for RCA's Rome projects, in roles like the King in Aida (both the Perlea
and
Solti recordings) and other assorted second tier parts. Here you get the feeling he was deputizing for someone--a Tozzi perhaps (who was the Guardiano in the Forza RCA recorded at around the same time with the same principals). He's not nearly in the same class as the big bad bassos of the era--a somewhat nondescript timbre and lack of solid tonal core (tranaslation: he's none too steady while never quite deteriorating into an outright tremolo)--but he earns his paycheck honestly enough.
The Spanish contralto Belan Amparan is a tad hooty as La Cieca, but aren't *all* the singers who take on this role? (Or so they sound to me; still, I've certainly heard worse.) Roz Elias' Laura, OTOH, is exceptionally good, and in the duet with di Stefano, she's something more than that: for once in this recording, someone's voice is in the first flush of youth. Very possibly her best recording, in a fairly extensive discography.
Di Stefano is at the end of his vocal tether, it is true, but what a tether it was! In the lyrical sections--as in most of the meat of "Cielo e mar," for example--his singing is extraordinarily beautiful, and he can still sing out in the soft passages: a genuine mezza voce, not the unsupported croon of his later years. In the "damning with faint praise" category, we can observe that his singing is steady at all dynamic levels and invariably in tune. His phrasing is as gorgeous as ever. Even compared to so great an artist as Gigli, in the "Enzo Grimaldo" duet the way he colors the words and phrases is fresh, imaginative, and totally natural.
The role, unfortunately, is about three or four sizes too big for him (I'd say it's a 9-7/8, and he's around a 6-1/2). In the aforementioned duet, the engineers have seemingly taken no measures to boost di Stefano's level to match that of Warren, and you can easily hear the way the poor little guy is swamped. And the ways in which he tries to boost his *own* level are unacceptable, audible, and ultimately destructive.
The sonics, in the original vinyl pressings, are miraculous. The voices are recorded with plenty of air around them, but also with striking immediacy. Same goes for orchestra and chorus; the ensemble sound has tremendous weight and impact, but also remarkably fine definition and detail.
The big shocker here? The names of the producer and engineer, respectively: John Culshaw, he of Solti Ring fame, and Kenneth Wilkinson, he of some of the greatest-sounding recordings of all time. The overriding suspicion is that they may have felt as if they were "slumming" here--just picking up the paycheck. But nothing of that nature is reflected in the first-rate production values and gorgeous sound, which shout "Culshaw/Wilkie" all the way.
Legally-speaking, the set was, like many of the Wilkie classics, a joint project of RCA and Decca. Decca now owns the rights to the recording. At any rate, this Gioconda makes my top ten list of best-sounding opera recordings of all time
In summation, this performance hardly makes the best possible case for the opera. Previtali is a serious debit--this in a work that practically conducts itself. But the orchestral and choral work is very good, the recording is sensational, the smaller parts are generally well-sung and -acted, and the principals, though all past their best, are still singers who demand to be heard (and in the case of Warren and Milanov, no doubt *were*--above orchestra, chorus, and even prompter).
For the average human being who needs a Gioconda (and don't *all* average human beings?), this might not be my first recommendation: that would probably be--notwithstanding some not insubstantial flaws of its own--the Decca with Cerquetti, Del Monaco, Bastianini, and Siepi, conducted by Gavazzeni on Decca. But for the rest of us who need at least 20 or 21, this one should definitely be among the top dozen or so.
MK