JVC: working miracles with old tapes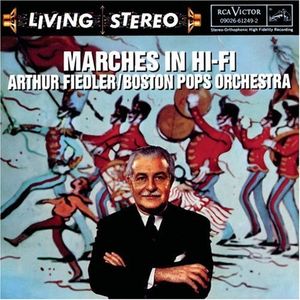 It may not be the most enduring music ever to bear the RCA Living Stereo banner, but JVC has applied its xrcd24 process to these 46-year-old tapes with stunning results.
Arthur Fiedler's
Marches in Hi-Fi
was never considered one of Living Stereo's finest moments: it was produced and engineered, respectively, by the famous team of Richard Mohr and Lewis Layton; but in careers marked mostly by hits, this one was a miss. The original Shaded Dog LP's were poor relations to such primo titles as the Offenbach
Gaite Parisienne
of 1954, or the various vividly-recorded Gershwin LP's. Even when RCA tried to revive it for compact disc early in their Living Stereo series, it was sonically something of a dog. Not Shaded.
I don't know exactly what the JVC engineers have done to get the results here: they claim only to take the greatest pains to assure quality control in the transfer and mastering process, and they state that the latest and most advanced hardware is used. There's no wizardry or knob-twiddling involved. Nothing added. Nothing taken away.
What has resulted is one of the great-sounding CD's in my experience, quite possibly the best of all. It not only buries all previous iterations of this title, it also knocks the recently-issued Fennell Sousa SACD in the Mercury Living Presence series right out of the park. It's a staggering testimonial to what can be done with the standard red book compact disc using the best of today's technology and the sharpest of ears.
This is a wildly expensive disc, like all the other xrcd's. I'm tempted to say "too expensive," but if ever a CD was worth $27 street price, this is it. I've already played it three times as much as most other "audiophile" discs in my travels. The math works out in its favor.
If your budget and curiosity allow you to purchase only one of the xrcd's, let this be the one. The unfortunate result is that it'll sell you on the rest of the series, and then there's no turning back.
Absolutely magnificent. A stunner in every sonic respect. And most impressive of all, completely unrecognizable vis-a-vis its previous incarnations. Who knew? Me, I'm going back to listen to it again.
MK