Books in Honor of the 80th Birthday of Dietrich Fischer-Dieskau
Legendary German baritone Dietrich Fischer-Dieskau celebrates his 80th birthday on May 28, 2005. Two new books have recently appeared to commemorate the event.




Dietrich Fischer-Dieskau: Ein Leben in Bildern




Hans A. Neunzig




Henschel Verlag (2005)




ISBN: 3894874996




Price: 34.90 Euros at www.Amazon.de (approx. $47.00)



I received my copy of this book a week or two ago and have been thinking about how to judge it. It's a large format, almost coffee-table-size, book from Henschel Verlag that combines text with a large number of photos, most of them black and white, with a center section of color reproductions of a selection of DFD's paintings.

Basically, the big attraction of the book is the pictures. It's a great book for anyone who wants lots of pictures of DFD, especially if you don't already have a great many of them. As is the case with most publications about DFD, the more you already know or have collected, the less the book has to offer. There are personal photos, many photos of DFD in opera roles, pictures of concerts and recitals, some
conducting photos, and, as mentioned above, reproductions of paintings, including several shots taken of the exhibtion in Polling (Bavaria) that ran for a couple of months last year.

There are a number of personal photos that were new to me, including a couple of childhood pictures of DFD at around 4 years old, one alone and one with his older brother Klaus, a picture of DFD in Wehrmacht uniform that I had not seen before, and a couple of pictures of DFD's mother. There is also a spread of pictures of DFD with his first wife, Irmgard Poppen, and their two older children. Probably the most
eye-catching is a small photo of DFD giving infant Mathias a bottle. Interestingly, there are no childhood photos of DFD's youngest son, Manuel, and no adult photo of his oldest son, Mathias. There are young adult photos of Martin and Manuel (one apiece). There are a couple photos of DFD's second wife, Ruth Leuwerik, and one of his third wife, Kristina Pugell.

There are a few new (to me) opera photos, including one of a very young DFD in costume for the premiere of Honneger's "Ein Totentanz" (1949). There is also a hilarious picture from Zillig's "Troilus und Cressida" that illustrates DFD's remark in his memoirs that wearing the short Greek tunic embarrased him. DFD barelegged looks like a stork, God help him. The concert and conducting photos are pretty much
all known quantities, as are the DFD paintings. There is just one photo of DFD giving a masterclass.

Don't worry about the text being in German. It is basically an abbreviated rehash of material in Hans A. Neunzig's 1995 biography of DFD. There is very little in it that is new. I don't exactly want to use the term "hack job," but it's close. So, you won't miss anything if you can't read the text, and if you have read Neunzig's biography, you pretty much know what the text says anyway.

Now for the weaknesses. There are two major flaws in the book, in my opinion. One is the rather haphazard way the material is arranged. At first you say to yourself, "Ah, it's chronological," but it isn't. You can leap years from one page to the next. Then you say, "Okay, it's thematic," but that turns out not to be true either. Pictures of every type are scattered through the book. Personally, I don't get it. I
would have put all the personal pictures in one place and arranged them chronologically, then done the same for the opera photos, etc. (Although the opera photos could have been arranged by composer, as it done to some extent in the book, but if so, then it should at least be consistent, which it isn't.)The paintings are a special section anyway, so they don't count. The other weakness, which is nearly
fatal, is the lack of an index. There is no index whatsoever, so if you want to find a photo, you have to leaf through the entire book. It's ridiculous.

Did I mention the term "hack job" a couple of paragraphs ago? You know, now that you mention it . . . .

Oh well, your mileage may vary of course, but at about $48 plus shipping, you may want to think about it carefully before you buy.







Dietrich Fischer-Dieskau: Diskographie




Monika Wolf




BoD GmbH, Norderstedt (2005)




ISBN: 3833424702




Price: 29.90 Euros at www.Amazon.de (approx. $40.00)



Anyone who is familiar with Monika Wolf's previous Fischer-Dieskau discography (Schneider Verlag, 2000)knows the kind of detailed, accurate work she produces. This new discography, computer-published via Books on Demand, differs from the first one in several ways. First, the entries are arranged chronologically, instead of by composer. Second, it gives information about the recording producers and sound technicians, to the extent that it is available. Third, it contains entries that had not yet been released at the time of the original discography in 2000. And finally, each entry (except two) is accompanied by a color reproduction of the album cover. The book is more comprehensible to the casual reader than the earlier work, and thus gives a better impression of the sheer volume and scope of DFD's recorded legacy. It is simply a must-have for collectors of DFD's recordings, and it is also just plain interesting reading for DFD fans who are not obsessive collectors. The album covers are a great addition, and it's fun to see that the European covers are often different from the ones I know from the USA. If you collect DFD's recordings or would like to, you need both of Monika Wolf's discographies. If you're just starting, I recommend you begin with this one. You will not regret it.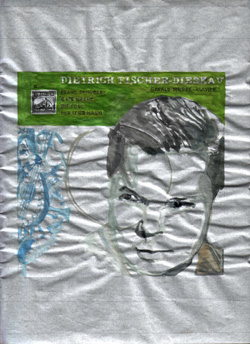 Anne Bachschuster: Watercolor on paper (2000)
23 x 32 cm
www.ArtResearch.de